Andres Carballo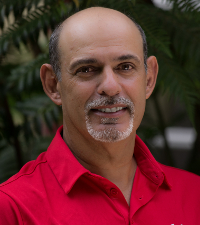 Andres – or Andrew as his clients know him – started at Costa Rica Expeditions in 2004 with eight years of experience as a guide. He is very proud that he was given the title of Naturalist Guide, a dream – as he puts it – that finally came true.

Besides being a passionate natural history buff, Andres recently took up a new hobby: cooking. It has turned into more than just a hobby; in fact, he went to cooking school and is now a Chef. Andres is an avid reader and also enjoys working with his hands, particularly with wood. He and his wife, Gabriela, have a four-year-old daughter, Fiorella, who loves dancing and singing.
TESTIMONIALS: 
May. 1, 2007 "Excellent service and guides."
Hello Herrol: Just a quick thank you for providing such excellent service and guides on our short visit to Costa Rica April 26th. Andrew and Federico were wonderful guides – professional in every way, and very informative. Paulo, the driver, kept us safe – our first priority. My group was very impressed with your services, and most of all the wonderful country of Costa Rica. We shall return!
– Sue Wehrli, Wehrli Travel, Naperville, IL
Apr. 27, 2007 "The itinerary was perfect, the accommodations and food were excellent, but the best part was your staff."
We very much enjoyed our trip with your company. The itinerary was perfect, the accommodations and food were excellent, but the best part was your staff. Andrew Newcomb did a tremendous job. He was very informative and was helpful and conversant on a wide range of topics, some of which were totally unrelated to what we were doing or seeing. He is a very intelligent man. He provided options and was always flexible in accommodating the schedule to our wishes. He is also an excellent birder. We would never have seen the 113 types of birds we did without his keen eye and powerful lens. I know I will spell his name wrong, but Eitel was a great driver. He not only handled his job perfectly, but was good company and was able to add to the conversation and enjoyment of the trip. We would, and have, recommended Costa Rica Expeditions to others.
– Jon Muth
Feb. 12, 2007 Costa Rica Connoisseur: "What a wonderful week we all had."
Dear Michael: We came back from your beautiful country last night to cold and snow in the Chicago area. Aren't you lucky! I had joined the Costa Rica Connoisseur trip with three other couples and I just wanted to let you know what a wonderful week we all had.
Everybody just loved Tortuguero. That is a dream destination. Tortuga Lodge is superb in its simplicity and friendliness. This is my third stay at Tortuga and you are really keeping up the standard of excellence. The boat rides were wonderful and well led by Miguel.
I think we all would have loved to stay there another night but off we went to Arenal. That was also a great experience. We arrived and the Volcano was hiding behind clouds and Andres was expressing his hopes that we would see it the next day. But first we refreshed ourselves in the Hidalgo Family Hot Springs. That was a fun experience and it was followed by a lovely dinner there. The next day we did the morning hike in the rain forest with the hanging bridges. That is a unique experience. We had a sunny day and the clouds disappeared from the top of Arenal.
Dinner at the hotel was fun and we watched with fascination viewing the volcanic activity which included explosions and lava flows just as you describe in the itinerary. It was like having dinner with fireworks except they were real.
Next day off to Monteverde. Your lodge there is so beautiful and everybody was exclaiming over the charming rooms with the sitting areas at the corner windows. And we did get to see the resplendent quetzal (male and female) and that made the day! Again, I think I could have easily stayed another night and enjoy the lovely lodge. We all loved the elegant farewell dinner in San Jose.
But the best thing was the tour guide you provided, Andres (Andrew) Newcomb. His knowledge of birds, plants, history of CR is excellent and he is able to present everything in an interesting way. He was patient and very attentive with everybody in the group and never lost his cool. He was there at 6AM every morning for those who wanted to look for birds and was as enthusiastic and thrilled as we were when a good one presented itself to us. He was always prompt and explained what we were going to do and see in a clear way. He joined us for all meals and was a great addition to the table. I cannot recommend him highly enough and hope to have him again, should we join another of your great tours in the future.
– Mary Sproul, Four Corners Travel Ltd., Evanston, IL
Apr. 13, 2006 "A wonderful trip."
Hi, Nadya: It was a wonderful trip and Andrew was as much a friend and fellow adventurer as he was a guide. He seemed to enjoy everything as much as I did. Let me know if you were able to download and view the pictures I've sent. I have what I believe are some outstanding wildlife portraits. I'll hear from you soon I hope.
– John Dyer
Apr. 10, 2006 "The highlight of our trip was our stay at Corcovado Lodge."
We returned from Costa Rica late last night after an unforgettable 2 weeks in your beautiful and amazing country. Wherever we went, the Costa Rican people were so friendly, and helpful — this is something we will also never forget.
Certainly a (possibly the) highlight of our trip was our stay at Corcovado Lodge, booked through Costa Rica Expeditions. Osa Peninsula is an amazing place, and the lodge is a world just "out of this world". We also cannot say enough to praise Mr. Andrew Newcomb, our naturalist guide. He went "above and beyond" to make sure our needs were met, from the minute we left the driveway of our accommodations in San Jose, until returning after our 3-night stay, and not to mention his strong interest and knowledge of the flora & fauna during our hikes through the rainforest and National Park.
We will be talking about our trip to friends and acquaintances here at home for a long time to come, in the hope that they will feel inspired to experience the same. And we will be back!
– Kimberly Hayward, Bermuda
Mar. 26, 2004 "A marvelous adventure…My kids will be talking about it for years to come."
Just wanted to send you a quick note to let you know how much we enjoyed our vacation. You did a really terrific job organizing the trip – our naturalist guide, Andrew (Andres Carballo Newcomb) – was outstanding, we really enjoyed his company and his insights. All of the folks we met from CRE were great. What a lovely country and a marvelous adventure. My kids will be talking about it for years to come. I will highly recommend CRE to anyone planning to travel to Costa Rica!
– Kathryn A. Humber