Ligia Fernandez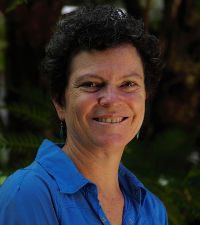 Ligia Fernandez started working for Costa Rica Expeditions as a Naturalist Guide in 1985 shortly after graduating Marine Biology at the Universidad Nacional.

After acquiring her MBA at the INCAE, she worked many years at a project for the European Union and the UICN at the Area de Conservacion Tortuguero.
Her husband's company has let Ligia travel and live in various places in Asia and Europe. Having spent 6 years on a sailboat she moved on to do cycling trips all around. This woman barely stays put!
She's done a lot of environmental education targeted to children and adults in Malasia and Singapur, so she's also made use of this time spent abroad by visiting their diving sites.
Back home, she has established a scientific group targeted for the senior citizens of her area to create environmental awareness and promoting education.
As you can see not only is Ligia a very active person that has gathered knowledge and experience in her journeys but she has also found ways to help out her community.
She is sure to make your trip a very interesting one!